EuroAgentur Hotels & Travel
EA Hotels is a hotel chain operated by a private limited company EuroAgentur Hotels & Travel, the largest hotel company in the Czech Republic which manages and operates over 40 hotels and resorts and around twenty restaurants and other catering facilities. The portfolio includes 11 hotels in the city centre of Prague and in other attractive places within the Czech Republic and Slovakia.
Use our on-line reservation system! Whatever service you choose, we believe that it will meet all your demands and expectations.
Spring/Summer 2018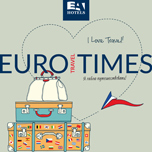 Spring/Summer 2018